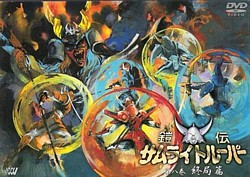 The title of this DVD, Shuukyoku Hen (『終局篇』), translates to something like "Conclusion Chapters". It contains episodes 36-39:
- 36: Kessen! Kayura Tai Kikoutei (「決戦!カユラ対輝煌帝」)
- 37: Fukkatsu no Kou Rai Sei (「復活の紅雷閃」)
- 38: Kayura! Seinaru Mezame (「カユラ!聖なる目覚め」)
- 39: Kagayake! Gonin no Senshi Tachi (「輝け!五人の戦士達」)
Community content is available under
CC-BY-SA
unless otherwise noted.