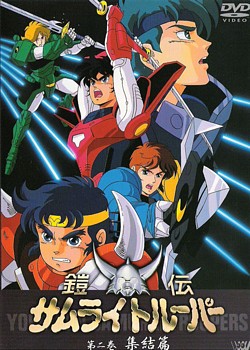 The title of this DVD, Shuuketsu Hen (『集結篇』), translates to something like "Gathering Chapters". It contains episodes 6-10:
- 6: Hangeki Ikari no Chou Ryu Ha (「反撃 怒りの超流破」)
- 7: Kaigan! Hissatsu no Raikou Zan (「開眼!必殺の雷光斬」)
- 8: Gen Ma Shou, Rajura no Sakuryaku (「幻魔将、螺呪羅の策略」)
- 9: Rekka, Tenkuu wo Sukue (「烈火、天空をすくえ」)
- 10: Shuuketsu! Gonin no Senshi (「集結!5人の戦士」)
Community content is available under
CC-BY-SA
unless otherwise noted.