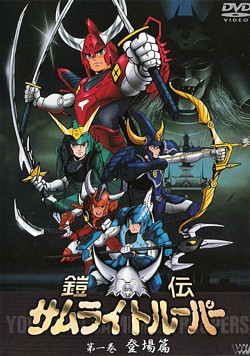 The title of this DVD, Toujou Hen (『登場篇』), translates to something like "Introduction Chapters". It contains episodes 1-5:
- 1: Nerawareta Dai Tokyo (「ねらわれた大東京」)
- 2: Oni Ma Shou! Shuten no Moukou (「鬼魔将!朱天の猛攻」)
- 3: Yoroi Gia, Rekka no Himitsu (「鎧擬亜、烈火の秘密」)
- 4: Doku Ma Shou, Naaza no Wana (「毒魔将、那唖挫の罠」)
- 5: Fukkatsu! Hikari no Senshi (「復活!光の戦士」)
Community content is available under
CC-BY-SA
unless otherwise noted.