White Blaze/Byakuen

Age

Unknown

Birthday

Unknown

Birthplace

somewhere in Japan

Length

370cm/12'2"

Weight

Unknown

First Appearance

"Target: Metropolitan Tokyo"/"Shadowland"
White Blaze (白炎,
Byakuen
) is a large white tiger that's Ryo Sanada's pet or companion. Ryo claims that he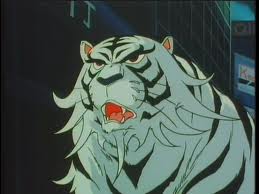 comes from the
Himalayas
. White Blaze generally travels with
Yulie
and Mia Koji. He often tries to help the Ronin Warriors in fights, but almost always gets swatted aside easily. Despite this he doesn't hesitate to charge into a fight when he feels he should help. He is mortally wounded when protecting Ryo from Lord Saberstryke. After his defeat, Lord Saberstryke request his own companion, Black Blaze, to revive him. This act resulted in White Blaze turning into Black Blaze when Ryo summons his Armor of Inferno. It is unclear if the Black Blaze that assist Ryo is still White Blaze simply donning Black Blaze's armor and power, or if it is Black Blaze himself.
Community content is available under
CC-BY-SA
unless otherwise noted.