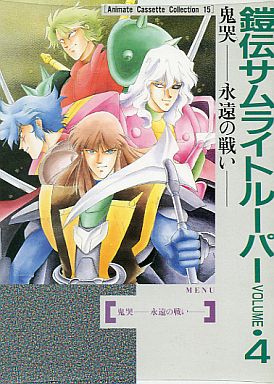 Volume 4 ~Kikoku -Eien no Tatakai-~ (Volume 4 ~Wail -The Eternal Conflict-~) is a special cassette tape for the Yoroiden Samurai Troopers anime series. It was released on July 1st, 1991 by Movic in Japan only.
Album Info
Edit
This cassette tape was released as part of the Samurai Troopers "Animate Cassette Collection", and unlike the other three volumes, it did not make it to a CD. This can perhaps be explained by the fact that the content consists of two drama tracks (one on each side) in which only the four Ma Shou and Arago are heard. Kusao Takeshi does have a role as a village boy, but not as Sanada Ryou. The plot essentially revolves around Shuten. Side A seems to be Shuten and the other 3 Ma Shou getting acquainted with one another, while Side B has all four going to a village in order to retrieve the armor gem of "Jin". The official name of this tape is "Animate Cassette Collection 15". Because it has only two tracks that form a single drama story, and they do not have titles, I did not put up a track listing.
See Also
Edit
Community content is available under
CC-BY-SA
unless otherwise noted.