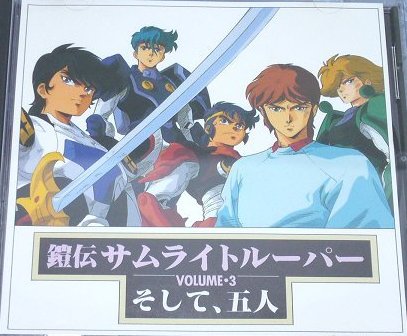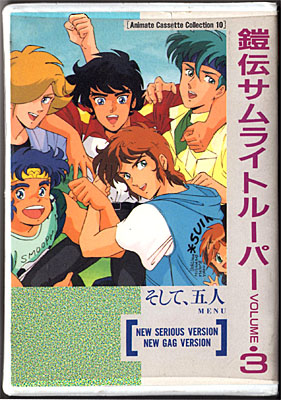 Volume 3 ~Soshite, Go Nin~ (Volume 3 ~And Then, The Five~) is a special CD for the Yoroiden Samurai Troopers anime series. It was released on September 1st, 1992 by Movic in Japan only. Its content was first released as a cassette tape, which was published on March 1st 1990, also by Movic.
Album Info
Edit
This CD was released in a special box set called "Memorial CD Book Set" along with Volumes 1 and 2. Its content consists mainly of gag tracks, with one track that is basically just the voice actors talking (Free Talk), one serious track (the first one), and a cute little piece called "Flirt Call" (last track). It should be noted that the content of this CD is the exact same as that of the third Cassette Book Collection, "Animate Cassette Collection 10".
Track Listing
Edit
Track
Type
Title
Length
Notes
1
Drama
Soshite, Go Nin (NEW SERIOUS VERSION)
(And Then, The Five (New Serious Version))
??
2
Drama
Seigi Kan no Uragawa (NEW GAG VERSION)
(The Other Side of Chinese Justice (New Gag Version))
??
3
Drama
Chuuka Sanzen Nen no Aji
(The Chinese Three Thousand Years Old Sense of Taste)
??
4
Drama
Sawayaka na Shounen
(Invigorating Boys)
??
5
Drama
Kyuukyoku no Daietto
(The Ultimate Diet)
??
6
Drama
Jikka ni Kaerasete Itadakimasu!!
(I'll Gladly Return Home!!)
??
7
Drama
Furii Tooku
(Free Talk)
??
8
Drama
Samurai Toruupaa no Nanpa Kooru
(Samurai Troopers' Flirt Call)
??
See Also
Edit
Community content is available under
CC-BY-SA
unless otherwise noted.