Dais/Rajura

Age

440 (phsyically about 21)

Birthday

October 9, 1549

Astrological Sign

Libra

Birthplace

around Kanto

Height

176 cm/5'9"

Weight

70 kg/154 lbs

Yoroi/Armor

Spider (Illusion)

Virtue

Nin/Serenity

Season

Summer

First Appearance

"Target: Metropolitan Tokyo"/"Shadowland"

Dais (幻魔将・螺呪羅, Illusion Demon General Rajura), is the oldest of the Four Dark Warlords. Known as the Dark Warlord of Illusion, he served Emperor Talpa and was an enemy of the Ronin Warriors.
Dais is voiced by Matt Smith (Jûrôta Kosugi in the original Japanese version).
Appearance and Personality
Edit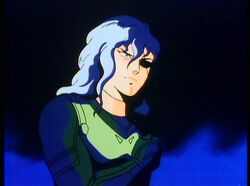 Dais has white hair and blue eyes. He wears an eyepatch over his left eye. For the duration of the series, he is solely seen in his armor and undergear. Dais' armor is dark pink and brown.
Dais is the tactician of the Dark Warlords. He delights in outthinking his enemies and allies alike, and treats his opponents like pawns on a chessboard. As he is the oldest, Dais has the most maturity, which makes him more likely to consider alternatives rather than charge headfirst into battle.
After an encounter with Anubis in the Mortal Realm, Dais becomes the second Warlord to start questioning Talpa. It doesn't help that Lady Kayura wins the Dynasty Emperor's favor shortly afterwards.
Biography
Edit
The War with Talpa
Edit
Armor and Powers
Edit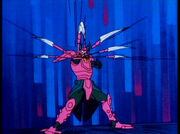 The Armor of Illusion, or the Armor of the Spiders, is a representation of the Summer season. It has the power to create extremely realistic visions and allows Dais to camouflage himself. His weapon is a combination of six scythes, which can either extend or be used to create large webs. Also, a morning star and a nunchuka can be found on the arm guards. The Spider armor's special attack is "Tochimou" (which translates as Spiderweb Cast," but was changed to "Web of Deception" in the dub).
If Dais were to use his armor for good, he could use his illusion power to calm the troubled mind.
Relationships
Edit
Ryo of the Wildfire
Edit
Rowen of the Strata
Edit
Kento of Hardrock
Edit
Sage of the Halo
Edit
Due to the number of times they have face off in the series, fans say that Dais is Kento's main adversary.
Despite being the last Warlord to face the Ronin Warriors during the time they were attempting to reunite, Dais came the closest to successfully defeat them.
Community content is available under
CC-BY-SA
unless otherwise noted.